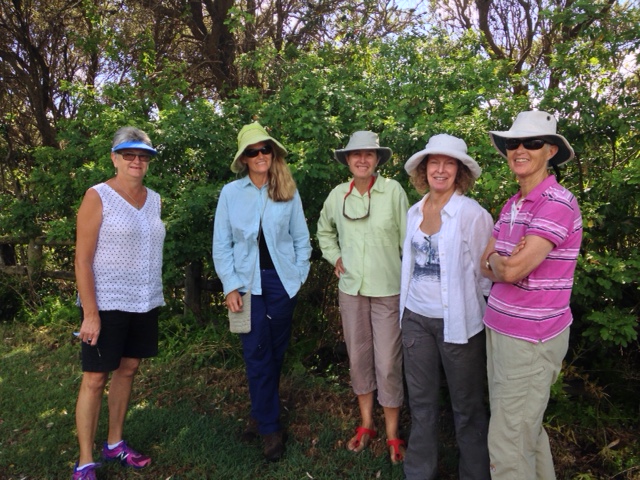 Bellinger Landcare has delivered or auspiced projects funded by the Bellingen Shire Council Environmental Levy Community Fund. Recent projects delivered with this funding have included the following.
Protecting Rainforest in the Bellingen Hospital Arboretum
Funding was received for targeted weed control to promote the natural regeneration of Lowland Subtropical Rainforest which is a threatened ecological community. The project engaged a professional bush regeneration team to target vine weeds, Privet and Ochna, which were smothering the rainforest. This ongoing project delivers biodiversity conservation outcomes as well as much needed vegetation management at the hospital facility located on the edge of the Bellingen township.
Regenerating littoral rainforest at Alma Doepel Park at Mylestom
Mylestom Landcare formed in July 2015 and have been working on improving the condition of Alma Doepel Park, especially to tackle the high presence of weeds in the area and regenerate Littoral Rainforest which is an threatened ecological community. The funding gained has been used to engage a professional bush regenerator and purchase tools and equipment to support the group to continue its very effective weekly working bees.
Friends of Wonga Forest bush regeneration around Bellingen Cemetery
The Cemetery Reserve has its own weed tree problems, causing re-infestation of the forest mostly with Camphor laurel and small-leaved privet, but also Rhus tree and other species, all around the edge of the cemetery as well as in the forested block to the west of the cemetery. This funding addressed that problem, starting on the northern and eastern edge of the cemetery then continuing on to the western block, using professional bush regeneration contractors.
Dandarrga Landcare Group nursery refurbishment at Dorrigo Showground
The Dandarrga Landcare Group has gradually been renovating the nursery and used funding gained to install water tanks and an automatic watering system. This addressed the pressing need for a secure water source following the dry spell experienced over the summer of 2019-21. During this time water restrictions meant that the group was not able to water the existing plant stock which was under threat of being lost due to the dry conditions.