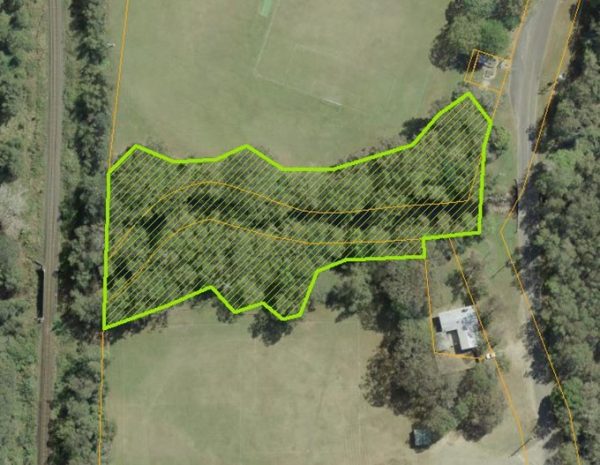 Station Creek, located between the soccer fields, off Morgo Street (google map)
With funding from Shire Council and Local Land Services, Bellinger Landcare has organised for the removal of the invasive coral trees along Stations Creek, Urunga.  This will assist the local landcare group led by Allen to restore this beautiful creek's biodiversity.  To find out when the local group meets, contact Allen on allenanne067@gmail.com
Working Bee May 28th, 9am
What was that huge mulcher by the soccer fields? What is all that shredded tree on the ground?
Come and find out, and get stuck into some planting, or weeding, with the Station Creek Landcare Group and our local contractor.
Thanks to Bellingen Council, and the NSW Government's Riparian Restoration Project, we have had a huge mulching machine, and some arborists, remove the Coral trees and a cheeky camphor laurel from this creek section, so that the canopy is opened up, and the understory is ripe for planting.
This site is part of the much larger Urunga Wetlands Eastern Section Vegetation Management Plan, which contains three endangered ecological communities. The Urunga Wetlands Local Landcare group will be joining us for the working bee, as their site is just upstream.
So come any time from 9am-11 to help transform a big pulpy mess of exotic tree shreddings into a biodiverse corridor!
Bring all the usual stuff- hats, gloves, insect repellent, sturdy shoes and water (there are taps nearby).
New Earth Regeneration will bring the plants. If you prefer pulling weeds to planting, we will endeavour to have something for you too!
AGM May 28th, from 11am
After the working bee, stick around for the AGM!
As if a working bee wasn't exciting enough, you can also join us for the Bellinger Landcare AGM at 11am, also at Station Creek (or Urunga Uniting Church if raining)
Behold the minutes from the last AGM!
Hear the reports for this AGM!
Join us for free lunch if you book ahead on this link 
Find out more about what we do!
If you are already a member of BLI you will be sent an agenda and report ahead of time.
If not, go here to join.